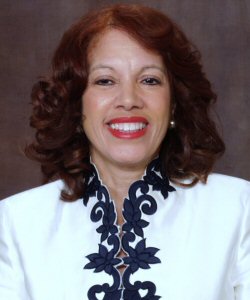 Dr. Susan Leath

Episcopal Supervisor
Dr. Susan Jones Leath is the fourth of five children of the Reverend Harold B. and Mrs. Juanita R. Jones. Growing up in Worthington, Ohio, she has been a lifelong A.M.E. Her father served as a local elder and her mother has been honored for devoted participation in the Women's Missionary Society. She now serves as the WMS Supervisor for the 13th Episcopal District of the A.M.E. Church (Kentucky and Tennessee).
Dr. Leath is a graduate of Yale University and The Medical College of Pennsylvania. She is the wife of Jeffrey Leath, the 128th bishop of The A.M.E. Church. She is the mother of (the Reverend) Jennifer Leath, Victoria Leath, and Jeffrey N. Leath, II.
Her interests are to encourage, promote and discuss health issues. The spiritual basis for her concern is 1 Corinthians 6:19, "Or do you not know that your body is a temple of the Holy Spirit within you, which you have from God, and that you are not your own?" She is quite concerned about preventive health issues within the community of faith.
Dr. Leath maintains an active practice of family medicine in Philadelphia, Pennsylvania. She also maintains fellowship with Mother Bethel A.M.E. Church of Philadelphia, where she leads a women's church school class each Sunday. Susan enjoys reading, gardening and her exercise regimen.